Success Story: Euro Union Assistance
Accurate and up-to-date data. Anytime.
We work in customer service and offer our services as a contact center. We cater to a wide range of industries and have diverse clients, such as the automotive industry, food sector, and service sector. With approximately 100 employees, we operate from our two locations in Stuttgart and Nuremberg.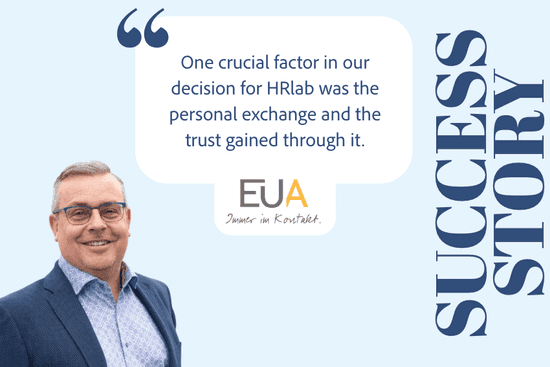 About Euro Union Assistance
Our philosophy: "Service that results in a smile." Accordingly, it is our ambition to treat our customers as equals and to consider each interaction as unique. Only then we can provide high-quality customer service and foster long-term customer loyalty.
Why did you look for an HR software?
Until two and a half years ago, Stuttgart was our only location, and everything was coordinated using analog personnel files and various programs and lists. This setup worked fine as long as there was one person who knew where everything was and could share the information accordingly.
However, with the addition of the second location, it became clear that this setup was no longer efficient enough. Looking up information quickly required communication, making data exchange more complicated and time-consuming.
Another important issue was the recruitment process. My requirements were as follows: A job application comes in and triggers an automated process. This process includes inviting the applicant, converting them into an employee, and generating automated documents for hiring. Next on our list of requirements was the manual maintenance of multiple applications. When data is stored in one application, it requires interfaces, meaning that different tools need to be able to communicate with each other.
Finally, a major focus, in addition to the previously mentioned requirements, was the user interface. A software must be enjoyable to use and intuitive. I wasn't willing to compromise on this aspect. So, we set out to find a suitable solution.
Why did you choose HRlab?
Armed with the mentioned set of requirements, we asked all providers the same questions. We found that the most common response was a "No" to our requirements in detail. In stark contrast, Christian Ebbecke, the CEO of HRlab, stood out. In our exchanges, we received clear statements about whether and how our requirements could be met.
What we particularly appreciated was that when additional requirements arose, we not only received a realistic assessment, but Mr. Ebbecke also contributed his expertise with specific suggestions. As a result, a crucial factor in our decision for HRlab was the personal interaction and the trust we gained through it.
In addition, the intuitive user interface and the flexibility that the tool offers played an important role. And it is worth noting the good price-performance ratio as well.
How did the implementation process go?
The implementation period went great. The only major challenge for us was to create a basic folder and document structure. It would have helped us to be guided more at the beginning on how to allocate the documents and templates in a way that makes the most sense in the long run. Apart from that, digitizing the documents is extremely time-consuming, but with and within HRlab itself, everything worked very smoothly and intuitively.
Anything you are particularly excited about?
Several product extensions were promptly implemented based on our feedback and seamlessly integrated into our daily operations. For example, an expansion of placeholders and improvements in recruiting.
Any feature you benefit from daily?
Definitely the document and template feature, as it saves us a tremendous amount of time. Additionally, we use interfaces, such as the one to our time tracking tool, on a daily basis. Our intranet is also connected via an interface, introducing new employees with a photo and a brief profile. Moreover, we heavily utilize the recruiting feature in HRlab, as well as the easy and centralized data maintenance. Consequently, all data is always up to date.
Open feature requests?
What I miss in the workflows is an automated email sending, including to external email addresses, as soon as the need arises in the process. This would significantly enhance our efficiency. For instance, when dealing with the termination of a company ticket, currently, I open an email, complete the corresponding template with the respective data, and then send the termination email. This process could be beautifully automated with placeholders.
Price / performance ratio
Final Thoughts
Those of us who work intensively with HRlab benefit from a significant workload reduction. Data is accessed with a single click, open tasks are easily visible, and the overall time required for personnel-related processes has been significantly reduced in several aspects.
For instance, the hiring process now takes only half an hour, including all associated tasks: contract signing, completing the entire personnel profile, collecting all hiring documents, and informing other departments.
Additionally, data analysis and reports are now a routine part of our work, thanks to HRlab. While the data foundation improves over time with continued use of HRlab, we already have reports on key metrics such as turnover and FTE. The simple creation of lists alone greatly facilitates our daily work.
In general, although there may be more work to handle due to the increased possibilities, the time required for each task has been notably reduced. Most importantly, the data is always well-maintained and up to date.