Flexible All-in-One HR Software For Medium-Sized Companies
HRlab provides medium-sized companies with all essential functions of an HR software needed for an efficient employee management. Comprehensive, affordable and no empty promises!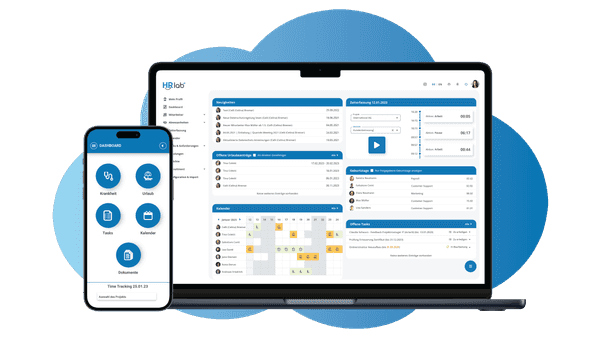 We Are The Experts For Your...
Employee Management
Digital personnel files collect all important data and documents in one place. Employees can update their personal data autonomously via our employee self service function and have access to all cleared documents. Also, contracts are created and signed in no time through flexible templates and digital signatures available in HRlab.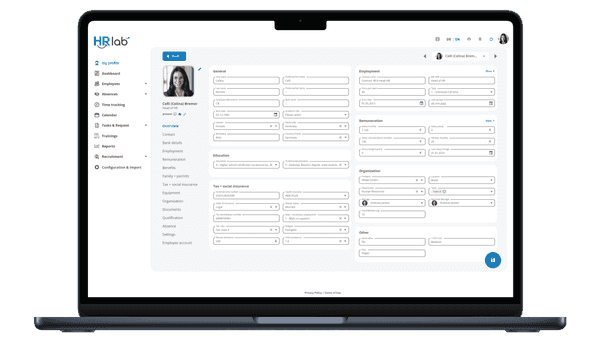 …And more! HRlab takes away all the tedious administrative tasks and creates room for strategic innovations within your HR department. For your long-term business success.
Escape The Chaos Of Isolated Applications
There's an abundance of specialised HR softwares available in the market. Employees working in HR departments are often faced with a multitude of partial solutions. This regularly translates into isolated applications for time tracking, recruiting or travel expense accounting. Which again results in constant switching between applications. In addition, each of these partial solutions must be maintained separately.
At the same time, core HR tasks such as digital personnel files, on- / offboarding, and other processes are often still done manually.
Towards A Holistic HR Software For Your Human Resources Management
Based on extensive experience in the HR field, we are able to offer an integrated solution for your HR management with HRlab. The HR software, which combines contemporary agility and modern usability with all the functions medium-sized companies need to digitalise their HR processes.
Say your goodbyes to tedious data maintenance and repetitive HR tasks. Use that freed up time to work on the sustainable development of your employees and workflows instead.
Why Choose HRlab as HR Software?
HRlab distinguishes itself from other solutions in its particularly high flexibility. Additionally, HRlab convinces with a profound focus on the diverse challenges faced by HR departments of medium-sized companies.
User-Friendly Interface
Modern design, convenient import and export functions and a personalisable dashboard all quarantee a comprehensive and intuitive use of HRlab.
Intelligent Integrations
By integrating third-party systems, process flows are easily synchronised and accounting systems such as DATEV can be connected. To allow easy handling and high data transparency.
Flexible Access Rights
Assigning intelligent user roles supports the management of various locations and companies. Access rights can additionally be differentiated according to role and organisational unit.
Extensive Reports
Analyses and reports enable strategic business decisions. With HRlab you have access to standard reports and evaluations tailored to your specific requirements.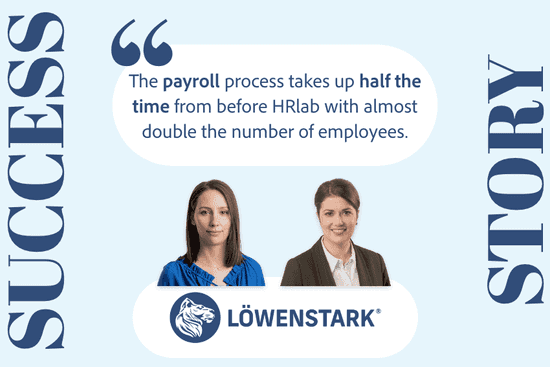 How to successfully implement HRlab
The HR software requirements of our client Loewenstark Digital Group?
Efficient DATEV integration
Rapid company growth & individual company culture
Reliable reports
Get To Know Us!
We are happy to personally walk you through our HRlab software in a web demo and show you how we can transform your individual HR processes. Alternatively, you are welcome to make use of our free 14 day trial and see for yourself.
Diverse Clients With One Thing In Common
We are proudly looking at a client portfolio of medium-sized companies from a wide range of industries. Our goal: Support each and every business with their unique requirements. This is what we stand for: Competent customer support combined with high customizability.
Let's Stay In Touch!
Benefit from our knowledge and attractive offers coming your way.