Success Story: Biker's Point
HRlab was ready for us to use within only four weeks.
Biker's Point was founded over 30 years ago by the father of our current CEO, who was a passionate Honda GoldWing fan. He faced the challenge that the motorcycle was not yet available on the German market. Hence, Biker's Point was established to fill this gap and to enable both himself and other motorcycle enthusiasts to purchase a GoldWing within Germany.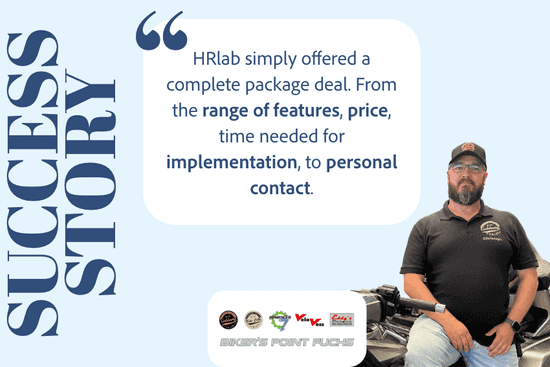 About Biker's Point
Since then, the steadily growing corporate group has become one of the largest motorcycle dealerships in Germany and is widely recognized across Europe. Not least due to its specialization in the Honda GoldWing and the construction of its own GoldWing trikes and sidecars. In addition to three large exhibition halls and three corresponding motorcycle workshops for all brands, the company complex, with a total of approximately 80 employees, features a fast-food restaurant (Eddy's BikerGrill) and a small motel with guest rooms.
In recent years, the company has also entered the bicycle and e-bike market, which experiences rapid growth. Therefore, since 2021, the Gebrauchtrad24 GmbH in Uslar, exclusively dealing with used bicycles and e-bikes, and since 2022, the Velo Voss GmbH, a charming, well-established bicycle shop with a workshop located in the heart of Göttingen, have become part of the corporate group.
Why did you look for an HR software?
In the context of our recent festive work event, we realized that we have now grown to a solid team of around 80 employees. However, with the increasing number of employees, we encountered a growing challenge of scattered information stored in various places.
For instance, when an employee needed to access certain information, we first needed to gather all relevant data from different programs and storage locations, ranging from Excel and Google Drive to physical folders. This not only consumed a lot of time but also caused unnecessary frustration.
Another concern was the issue of time tracking, especially with the impending new legislation. We had been using traditional time sheets, which proved to be both time-heavy and error-prone.
In light of these challenges, we felt it was crucial to implement a tool that could also effectively manage sick leave and vacation days. This would streamline the process of leave requests and approvals while providing a reliable overview of taken and available vacation days.
Did you try other solutions before turning to HRlab?
Over time, we accumulated a variety of different approaches and solutions, often based on personal preferences. Some stored information in Excel spreadsheets, while others relied on physical documents, and all of this was mixed with time sheets based on trust. However, as our number of employees grew, this approach was no longer feasible.
Why did you choose HRlab?
From the initial need for a simple time tracking tool, it quickly evolved into a search for an all-in-one solution. The more we searched, the more functionalities we found that we wanted to be covered.
Regarding user-friendliness and features, all providers were relatively comparable. However, when it came to costs and implementation, HRlab emerged as the clear winner. An implementation over several months was not an option for us, especially during the busy motorcycle season.
Specifically, we needed the HR software to be operational until mid-December with a start in mid-November. By early January, after the annual company vacation, everything had to be ready for time tracking. HRlab was the only one that could guarantee and deliver this.
Thus, the decision was clear for us, as HRlab offered the complete package - from functionality, price, and speedy implementation to a personal contact. Also, to us it was essential that HRlab provides all features as a single source, meaning we had only one point of contact.
How did the implementation process go?
The key factor, as mentioned before, was for the time tracking system to be up and running within four weeks. Even though it was a tight deadline, we actually achieved this goal in just two weeks. The entire process went really smoothly. We had regular communication with clear to-dos and templates, and we felt well-guided and supported throughout the while implementation process and beyond.
Did you face challenges? How were they resolved?
With our need to implement the time tracking system as quickly as possible we have to say: the process went smoothly and even quicker than expected. There was a minor issue where one employee couldn't clock in, but after sending an email, the problem was resolved within an hour. Everything went very perfectly, which re-confirmed our decision.
Any feature you benefit from daily?
We have been using the time tracking system without any issues from day one and our use of the system has been growing on a daily basis since. We started using the absence management feature, which means annual leaves and sick leaves are also submitted via HRlab.
The digital payslip system was quickly introduced as well, meaning all documents are neatly organized in one place, and all employees have independent access. Gradually, we are also completing the digital personnel files and storing employment contracts.
Small but valuable features are the reliable data and reports. For example, salary histories are accessible with just a click. We have also set up workflows, especially for HR-related processes. This way, we get automated notifications when employees are absent for more than six weeks or when a driving license renewal is due.
Something that particularly excells since implementation?
Above all: fewer Excel spreadsheets that need to be maintained and edited. And automations that make daily work easier, as well as the centralized database of all documents. This way, employees also have independent access to their documents and data, which significantly reduces inquiries.
Open feature requests?
Small things. A sticky note function would be helpful. For example, to digitally attach a post-it to documents. Ideally, with restricted access so that only I can see and edit my digital post-its, even if they are attached to documents of employees.

The input of monthly working hours was recently revised, meaning that now you can only enter hours on a daily basis, rather than entering overall monthly hours. In our case, we would prefer to have it kept in a more generalized monthly format again.
Intuitive user experience & features
Time needed for implementation
Final Thoughts
Our employees have all embraced the introduction of HRlab with a positive attitude, recognizing the ease it brings to their daily work and appreciating the transparency regarding their own vacation days and documents. Transparency is also crucial for the management, as all data is readily available and can be individually analyzed. Employee Self Service has also been a success, as certain responsibilities can now be delegated, significantly reducing the workload in the HR department.