Salary Negotiation Techniques
Salary negotiations can be a nerve-wracking affair, but with the right techniques, you can significantly improve your chances of a successful negotiation. In this article, we will show you how to prepare optimally for a salary negotiation and provide tips to help you achieve your goals.
---
How you start salary negotiations is crucial for the course of the conversation. Poor preparation or an ill-considered start can negatively influence the outcome. To be successful, gather comprehensive information about your own position and that of your employer.
It is also essential to have a clear idea of what you want to achieve and what arguments support your case. With the right strategy and communication techniques, you present yourself in a convincing way and respond confidently to counterarguments. In the following, we will explore effective techniques for a successful salary negotiation and provide valuable tips on how to strengthen your negotiating position.
Preparing for the Salary Negotiation
First and foremost, you should research your market value and have a realistic idea of a reasonable increase of your salary. It is also advisable to anticipate the employer's arguments in advance and be prepared to answer.
Good preparation also includes practicing communication techniques and persuasive strategies. The goal should be to appear self-assured and present your achievements and skills convincingly. Additionally, it's important to consider alternatives to a pure salary increase and address them in the negotiation.
Performance Review - What to Consider?
For both employers and employees, performance reviews are often associated with fears, concerns, and stress. We show how it can be different.
Communication Techniques for a Successful Salary Negotiation
Effective communication begins with the right preparation. It is crucial that you carefully think through and structure your goals and arguments in advance. This should also take the employer's perspective into account. During the negotiation, be sure to show open body language, maintain eye contact, and actively listen. To demonstrate persuasiveness, highlight accomplishments from your past work or additional qualifications.
If your employer raises counterarguments or objections, it is essential not to simply dismiss them but to address and, if necessary, offer alternatives. The timing of a salary negotiation also plays a role: it makes sense to avoid scheduling it during stressful periods or just before the weekend. Ultimately, you should consider that there are other options besides a pure salary increase, such as additional benefits like training or more flexible working hours.
Alternatives to a Pure Salary Increase
A salary increase is not always the best option. Many other alternatives can be discussed during a salary negotiation. In addition to the options mentioned earlier, you can also negotiate for an additional day off, a company car in return for good work, or other benefits.
Other possibilities include a company pension plan or tax-free fringe benefits like meal vouchers or employee events. Particularly, companies with a limited budget are often willing to offer alternative compensation methods to retain and motivate their employees. Therefore, you should consider which alternatives may be suitable for you and address them in your salary negotiation.
Satisfied Employees - The Key to Success
Employee satisfaction refers to the well-being, contentment, and happiness of employees in their professional environment. This is crucial, because satisfied employees tend to work more motivated and engaged.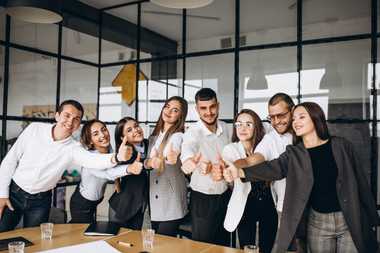 Following the Salary Negotiation
After the salary negotiation is concluded, you should not simply return to your daily routine. Follow-ups can be crucial in optimizing the outcome and establishing satisfactory conditions in the long term. One of the first steps is to document the results in writing and request a copy for yourself to avoid misunderstandings. Even if the result doesn't entirely meet your expectations, remain positive and seize the opportunity to obtain feedback from your employer. This way, you can be even better prepared for your future salary negotiations and possibly achieve more successful outcomes.