Desk Sharing for Increased Motivation and Flexibility
The job market has undergone fundamental changes in the last two years. Home office and hybrid work are now to be found in almost every company and closely linked to increased motivation and employee engagement. Another approach that has made room for itself: Desk sharing.
---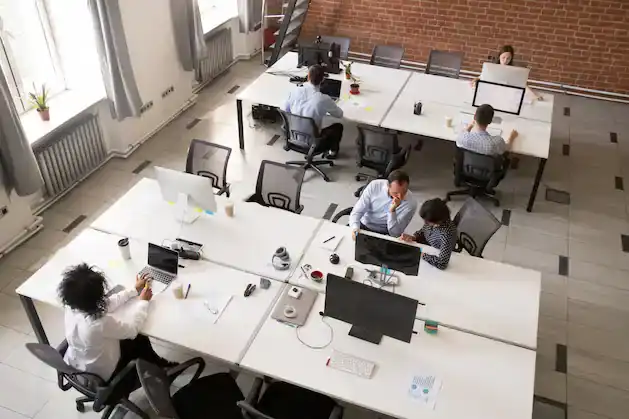 A recent study from Austria found that the concept of desk sharing, compared to traditional fixed-seat office work, leads to higher employee engagement. However, a radical implementation of desk sharing might also decrease employee engagement. Therefore, certain conditions need to be considered when implementing the concept of desk sharing.
What Is Desk Sharing?
Since desk sharing is a relatively new phenomenon, there is no universally accepted definition yet. In essence, it means that there is no longer a personalized workspace for each employee. This translates into fewer workstations available in the office than there are employees in the company. To make this work and avoid problems with workstation allocation, employees must efficiently coordinate their use of shared workspaces. At this point, the value of an HR software that transparently tracks employee presence and absences becomes evident.
What Are the Advantages of Desk Sharing?
One might think that desk sharing primarily offers financial benefits to employers because fewer workstations are provided for the same number of employees. While this is true, this work model has also been shown to have positive effects on employees. Numerous studies demonstrate that, on average, about 85% of employees are not engaged in their jobs. This is where the value of desk sharing becomes evident because the freedom to choose a workspace has a proven positive impact on employee engagement.
Similar effects can be seen in the productivity of employees working from home. Considering that 50% of employees would terminate their employment if remote work was made mandatory, a combination of desk sharing and home office, known as hybrid work under the desk sharing principle, allows the realization of benefits on multiple levels. Employers save on office costs, while employees retain the freedom to decide when to work in the office with their teams and when to work from home. This aligns with the increased engagement documented by various studies. However, certain conditions are crucial for this to work.
What Needs to Be Considered When Implementing Desk Sharing?
Despite its many advantages, desk sharing can be unsuccessful or counterproductive without the appropriate foundation. For example, many employees may prefer a fixed workspace and lose productivity with fluid workspace allocation. This is why an organizational culture built on open and transparent communication is of great importance. Direct communication and a well-structured HR department with efficient tools are essential for achieving success when implementing desk sharing.
Moreover, it is crucial to ensure that employees can contribute and voice their needs during the implementation. Gradually establishing the new work model can also make sense, allowing for optimization and timely solutions during the process. For example, workstations can be gradually transformed while the number of fixed workstations is steadily reduced. In this complex process, an HR software is always a useful support to prevent paper chaos. Additionally, easy access to essential data from anywhere is crucial for the smooth transition between workstations. Apart from the HR department, it proves essential to involve the IT department early on to ensure the technological requirements for changing workstations seamlessly.