Success Story: Loewenstark

Lesley Rudolph
January 12, 2023 • 6 minutes read
We got together with Janin Hoppe and Louisa Reichel (Head of HR and HR Business Partner) from the Loewenstark group to ask why they chose HRlab, how the implementation went and how satisfied they are with HRlab since. Of course we also wanted to know about the specific challenges they faced before implementing an HR software and how we were able to support them. But read for yourself - let's dive into our success story with Loewenstark!
---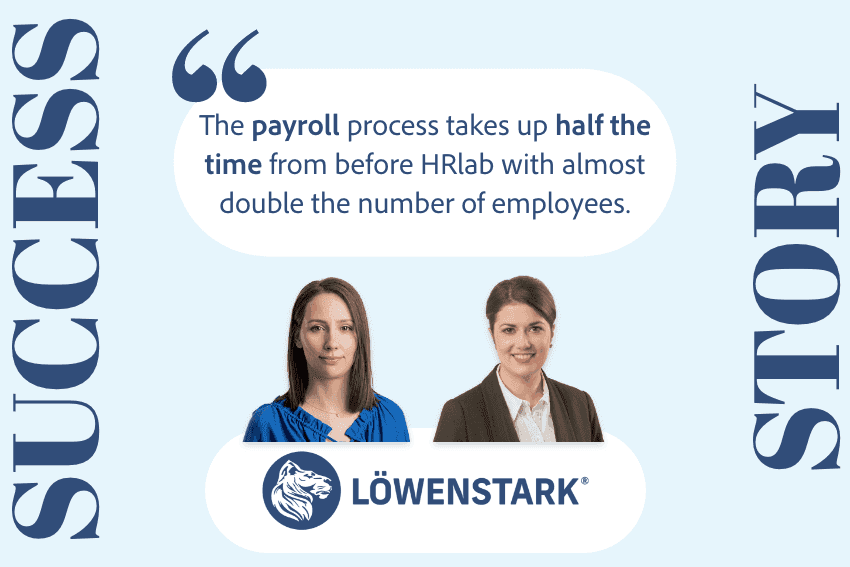 About Löwenstark
Janin and Lousia, can you elaborate on the company background of Loewenstark?
Since its founding in 2006 the Loewenstark Digital Group GmbH has developed into a group of companies with various entities. Although we consist of various different companies, we operate as one company and join forces when providing digital solutions for our customers.
Initially, we started in the online marketing and SEO optimization field. But over the years, we expanded our company portfolio with areas such as web development, performance marketing, reputation management, content marketing. This makes us a full-service marketing agency for our clients.
We have four office locations in Braunschweig, Leipzig, Berlin and Halle. While home office was used as an option before the pandemic, we have established a new remote culture in the past two years. Consequently, we also hire colleagues who work 100% remotely. Currently we have around 230 employees, 80 of whom work exclusively from their home offices.
The Problem
Why did you look for an HR software?
When we started looking for an HR software, Löwenstark was organized into a total of 10 GmbHs. At the time we worked with two isolated solutions that were not compatible with each other. The result: extremely high manual maintenance costs. Just creating a new employee took about 45 minutes of administrative time due to the need of duplicate work. Having data saved in different places also made it extremely difficult to run analyses.
Another thing we had to account for: we grew rapidly. On the one hand, our new remote culture naturally resulted in a much larger talent pool to work with. At the same time, this came with a whole new set of challenges in terms of a successful employee management.
Did you try other solutions before turning to HRlab?
Before we actively started looking for an HR software, we tried our way around Excel. But to be completely transparent this resulted in a bunch of wrong data. Pretty much every report had errors from the previous reports that needed to be corrected.
To give more context here: our selection process for an HR software was in the midst of the peak pandemic phase, which meant that personnel costs were clearly an issue. At the same time, our core business consisted of expanding our services for clients. So we faced the decision of either hiring more staff or optimizing our day-to-day HR work processes.
Why did you choose HRlab?
Our company structure naturally required a high degree of flexibility in the software as well as comprehensive reporting options, both of which HRlab was able to provide. Other than that and above all, we needed an efficient integration of DATEV and the option to connect our in-house-developed CRM system. And there were more requirements often not applicable with a "standard solution". Also high on our list: transparency and automated processes. Those factors eliminated a whole bunch of other software providers.
Another important point for our decision was HRlab's flexible pricing. And to be honest, HRlab simply felt like the best choice as a long-term partner. The continuous support, quick responses and the fact that a missing functionality was implemented in line with our needs only reinforced our decision.
The Solution
Following your decision for HRlab - how did the implementation process go?
As promised, we were able to finalize the implementation of HRlab within three months. This was certainly facilitated due to the fact that our internal master data, i.e. the personnel files, had already been digitized and the internal know-how and resources were made available for the process. Regular meetings and HRlab's availability for quick queries made a well-structured rollout of HRlab possible.
Were there challenges? How were they resolved?
As mentioned in the beginning, HRlab built an API according to our requirements. Naturally, we came across one or two challenges from a technical point of view, but thanks to direct communication they were quickly resolved.
Other than that, there were only one or two minor issues that were not entirely to our satisfaction. One example: at the time there was no copy function for different locations when creating new companies. Hence, the respective rights and role assignments had to be filled out manually for each location. However, this has been fixed since, which comes in handy for all future clients.
Any feature you benefit from daily?
We benefit daily from data analyses and flex reporting. HRlab is incredibly helpful to create reports based on past developments as well as forecasts for the coming year.
Also, for our use case, the high transparency in personnel files is crucial. Switching between our employees' personnel files is not only very intuitive, but also extremely helpful in our day-to-day, for example when comparing salary histories.
Otherwise, we use task management a lot with individualized workflows been implemented right from the start. One use case here are regular feedback meetings. Managers and employees are reminded automatically and can prepare accordingly. This makes the daily business of HR managers a lot easier.
Any open feature requests?
A small suggestion for improvement from our side: calling up individual employees after filtering on a department level the filter is lost when navigating back to the overview. We have a workaround, but of course it would be easier if set filters always remain. Also, an optimized overview of the gross monthly salary per employee would come in handy.
Final thoughts?
Since introducing HRlab, we benefit from a significantly increased transparency across all departments and responsibilities. Also, each time we introduce new employees, we repeatedly find that the software is very well-structured and intuitive.
Our administrative efforts have been reduced drastically, thanks to the fact that all data is reliably stored in one place and can be called up at the click of a button. As a result, we work more efficiently and have the certainty of correct data records. A specific example: with HRlab, we need half the time for the payroll process with almost twice as many employees as before.
Final point: even after implementation, we very much appreciate the regular exchange and support from and with HRlab. We are especially pleased with the quick feedback on any inquiries as well as the implementation of our feedback on new features. It is simply a very cooperative partnership.